Discussing Influencer Marketing on iOS 14 with Claire Rozain, UA Manager at Product Madness
---
Tanya Sardana
February 3, 2021 11:36 PM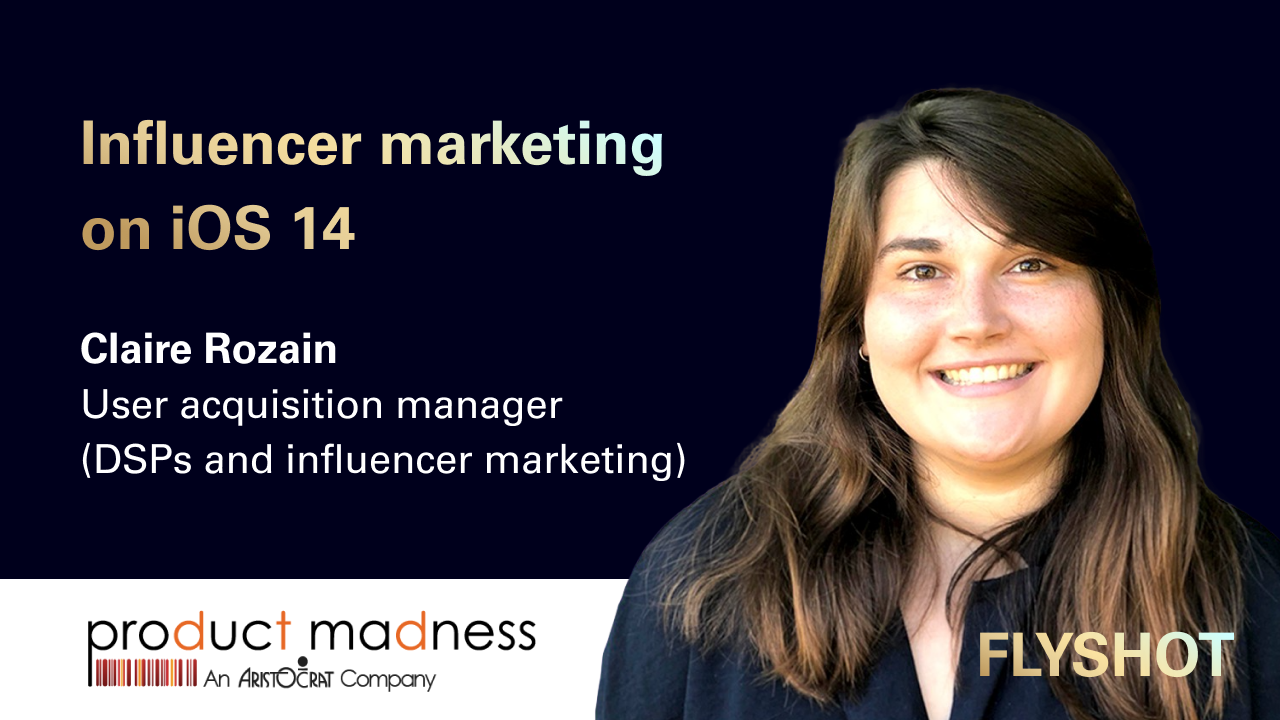 Tanya:
Claire, welcome to the show. We're happy to have you, and looking forward to an exciting discussion on influencer marketing on iOS 14. Starting off, how did you measure influencer performance before iOS 14, now that it's finally here, and how do you plan to measure it moving forward?
Claire:
Thanks for having me, Tanya. It's truly a pleasure.
Regarding measuring influencer performance, I believe before starting the campaign, advertisers should define what "performance" means to them. Is it installs, awareness, community building, or simply creating content to use in ads? There are several goals for influencer marketing, and when you begin, you should figure out what KPIs you want to measure.
At Product Madness, we are very performance-driven, so we track influencer campaigns the same way we track any user acquisition campaigns on other channels, like Facebook, Google, and so on.
We work a lot with YouTube, where we put a trackable link on the description of the influencer. And after, you can have click attribution, and of course, the view-through attribution.
But it's pretty holistic, as you sometimes have people on their desktop that you can't track. And sometimes you're simply making an impression for your brand. So you should consider attributing the organic uplift to your influencer campaign, and also increase your organics through App Store Optimization (ASO).
Tanya:
So let's say that when you're measuring that incremental uplift, do you pause all of your other ad spend to measure it accurately?
Claire:
So to be honest, no. But when I used to work in dating, offline acquisition is something we did all year long. And so what you'll get are some spikes in your organics. You can also see spikes in search engines. And then you'll be able to deduce the performance that you get from those campaigns.
Actually, on TV campaigns, you have really great tools and agencies that provide a lot of data now.
So I feel it helps to watch the right things at the right time and see the right spike. There are some amazing brands that just stop all their advertising to avoid cannibalization, and I think that's amazing. It's really smart of them.
Tanya:
What do you think is going to happen when iOS 14 comes and the incremental lifts are going to be much more probabilistic? Links in those YouTube descriptions won't be able to provide view-through attribution, conversion attribution, and ROAS anymore?
Claire:
So it's kind of a big question. When we add the link in an influencer description, it's not an advertising link. It's an organic link. So there is a lot of debate around this.
We decided to have one link per OS so depending on where you advertise, sometimes you don't see a big amount of iOS users.
But I think the main impact will be that everyone is now targeting really broadly with organic traffic and so on. And with influencer marketing, they will be able actually to find this really deep interest granularity and really reach a highly engaged audience on a really niche topic. And this has so much value, to be honest. I think this is golden.
Tanya:
Confirming that the link that you provide to them, it's an MMP link that contains a tracker yes?
Claire:
Yes. So we work with the Appsflyer, and we have also a BI tool that helps us to add all the influencer matrix, meaning the median views, the number of subscribers they have, the name of the influencer, the channels, the brief we shared with them for this campaign, and so on. So we connect a lot of that on this link. And it really helps us to make a science out of influencer marketing, and it's so pleasant to work on it.
Tanya:
Nice. Do you feel that when the performance ends up in the organic bucket, and influencers don't get attributed for it, it makes them less willing to do CPI or CPA campaigns?
Claire:
Yes. So to be honest, at the moment we don't work on CPI deals, because even if it's very attractive from the user acquisition point of view because everyone in user acquisition gaming is super deterministic, it can affect the quality of the audience and so on.
So we pay a flat fee at the moment. I'm not against CPI deals, but I think each advertiser need to be cautious about it, and also split the CPI and effective CPI, because it's something totally different when you do influencer marketing. Same for the ROAS that you get from your influencer marketing, compared to the effective ROAS.
We'll include the organic uplift, as this is a true metric. So currently, we pay a flat fee and generate performance from it.
And we know that the performance we're going to generate from influencer marketing depends a lot on the negotiation we have before even working with the influencer. And this is really important, for example, to pay the right CPM and so on, based on their engagement rate, follower, channel, and so on.
Tanya:
How do you deal with fake engagement rates? As you're aware, we can go on so many websites and buy likes, comments, followers, subscribers, and other vanity KPIs. And the engagement rate is an equation that is filled with these vanity KPIs. How do you negotiate with influencers knowing that the engagement rate could be fraudulent?
Claire:
Yeah, definitely. So what I watch before saying I want to pay you X amount of money is that on tools like, Social Blade, for instance, that are free and allow you to check tons of metrics. You can check for rates on credibility, reach, engagement, video completion, retention, sponsorship, and also the target audience percentage. Because you might not want, for instance, an influencer that got a huge amount of people in South East Asia, because your audience is in the US, for instance. So it's a lot of demographic checks before you set the price, because CPM, depending on each influencer that's mainly got followers in India or the US, is going to be totally different.
Tanya:
So if you got an opportunity to work with an influencer on a CPA, would that be interesting for you, or no?
Claire:
Yeah, definitely. I think it's the best thing to do for sure. And that's why so many people use a promo code, and even like the ambassador program, or you can organically have a community that converts.
I remember when I worked as an affiliate and had several websites where if I didn't generate conversions, I didn't get my 100 euro or so. And so it's totally fair if we would have that for apps.
Tanya:
Are you planning to show the ATT popup in Product Madness' games?
Claire:
Well, at the moment, yes. We are going to be compliant with all the requirements with regards to protect user data. I used to be a CRM manager, and I understand how important it is to get the user to opt-in. And I think it's a great thing that the user will finally have the choice, and I feel that's totally fair.
And I feel it's only going to make it better, like asking what the user wants to see in terms of ads. It's the same thing for email, and it works pretty well. It works the best when you ask the user what kind of information and ad he wants to receive.
Tanya:
It's interesting that you're going to show the ATT prompt when we're hearing that only 10% only users will say yes. Do you agree with that prediction, i.e only 10% of users will say yes?
Claire:
I mean, it's the same with push notifications. Like you have to ask your user if they want to receive them. And I feel it's totally normal. At the end of the day, the conversion rate, which depends upon the real USP from your game, was really surprising.
I was working for a competitor of Waze in France, so the permission was related to GPS. So of course people want push notifications right, in case you are too fast or you are not on the right road, and so on.
It's up to each advertiser, and even more up to each game, to make the user want to give that information. And I think it's right and fair that the user gets the power.
Tanya:
Agreed. However, do you feel that it could deter some users based on the way that Apple has phrased the permission? "This app would like to track you" sounds so creepy. And many users will simply reject the permission because they don't like ads, and don't want to be tracked. What do you think will be the impact of the conversion attribution link being broken?
Claire:
I feel it will start to rely a bit less on the MMP. I love the idea of giving the user a promo code and allowing that to be a method of conversion attribution.
So attribution is not under threat thankfully to promo codes. Combining that with clicks will still be able to track purchases, and get view-through attribution. So I don't think it will be broken.
Tanya:
Agree. Absolutely. We love promo codes! So what has been your experience with promo codes? What has been your conversion rates? Do you feel they perform well for you?
Claire:
Yes! It depends on the app. I feel an influencer with a personalized promo code works wonders with attribution.
For a nice influencer marketing strategy, definitely work with promo codes. You can give like a personalized skin as a gift, or premium matches on dating, it's really up to the creativity of the team. It's also important to make it sexy and make the user want to see what's behind the promotion.
Tanya:
Totally agree. So what have been some cool promo codes you've done? Skins sound like a great idea.
Claire:
Yeah. Skins are great. You can create things like special challenges that are exclusive to a player group, VIP treatments, and so on. The sky is the limit when you work closely with your product team. And in gaming apps, you can have so much flexibility.
Like last week I was playing a game from Asobo, where you just kill people with it. Haha, it's funny. Imagine you have a promo code for a special gun, for instance. Or a discount on a special weapon. I'm sure it will work well. It's genuine, as it's a niche community, and it's loud enough to generate revenue from it. It's a really smart idea for games.
Tanya:
That's awesome. Very, very cool that you're into promo codes for games Claire. It's something that we're very passionate about and glad it's naturally resonating. Thanks for being on the show, I'm sure all the UA managers tuned in will be able to gain from this!
Claire:
Thank you, Tanya. It was a pleasure. Thank you for the invite.
Tanya:
Of course, any time!
Disclaimer: The opinions and views shared in this article aren't in any way connected to Product Madness' views.
---